Sydhavnens Motorværksted rely heavily on 25 highly skilled employees delivering a great variety of tailor made precision work in steel, aluminium, pipes, hydraulic systems and engine repairs profile
• We conduct maintenance and developing tasks on docking ships as well as on ships in  operation. Sydhavnens Motorværksted (Baltic Marine Engineering) is collaborating closely with MAN Diesel & Turbo in Augsburg and Austal Ships in Australia when performing maintenance and service on for instance the two high speed vehicle catamaran ferries Villum Clausen and Leonora Christine.
• With the same kind of partner setup we also perform maintenance and service on the Kat Express ferries sailing between Kalundborg Odde and Aarhus.
---
Reference
We develop and deliver unique, tailormade spareparts to e.g. MAN Diesel & Turbo in collaboration with their engineers. MAN Diesel & Turbo has their own office at Sydhavnens Motorværksted.
---
Other core-product

Security check on man overboard and fast rescue boats.

Security check on ramps and decks.

Building, maintenance and service on passenger gangways and ramps.

Maintenance and restoring steel and aluminium constructions of any kind.


Buffer stock of MAN Diesel and Turbo spare parts.

Accredited by the Maritime Authority for testing of davits, cranes, lifting platforms, gangways, pressure tanks, FRB and MOB boats and more.
Engine and propulsion repair
Manufacture and repair of marine plants
Machining- and metal work.  
Certified welding in steel, stainless steel and aluminum
Classified shipbuilding plate in steel and aluminum at stock
Authorized dealer of ship- and boat engines
Distribution of oil products
Hydraulic hoses and fittings at stock
Boat Chandler (Oens Marinecenter):
Dealer / installing / repair of electronic navigation equipment. Furuno, Simrad, Lowrance, B&G, Raymarine etc.
SOLAS approved - and Wheel marked safety equipment for the Offshore industry
Services Center for SOLAS-Lifejackets
Repair and manufacture of tarpaulin
Round Slings, web Slings, lashing with more
---
Certifications
We deliver accordingly to the classifications of Bureau Veritas, Norske Veritas and Germanischer Lloyd.
---
---
---
Years in business
50+ years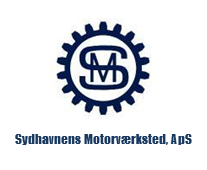 CONTACT
Beddingsvej 2, 3700 DK-Rønne
Tel: +45 56 95 07 61
Fax: + 45 56 95 05 82
Mail: claus@smv-dk.dk
Web: www.smmc.dk/