Bofa's task is to plan, establish and operate the facilities necessary for the treatment and recycling of waste from the Regional Municipality on Bornholm in an innovative and environmentally friendly way. Bofa also collects waste and recyclable materials from both households and businesses on the island.
Bofa comprises of:
an incineration plant producing hot water

a recycling centre

six waste-sorting sites

thirteen unmanned environmental stations
Bofa has one of the highest re-utilisation rates of any waste-treatment company in Denmark: 69% of all waste received at Bofa is recycled and 24% is incinerated, the latter of which generates virtually carbon-neutral heat for consumers in Rønne. The remaining 7% of the waste is deposited.
---
Environmental Innovation
According to Bofa's managing director, the smoke emitted from the incinerator is so clean you could grill a sausage on top of the 75-metre-high chimney during peak operation of the process.
Bofa is intently focused on providing information about a sustainable environment and has turned a former water tower into an ultramodern information centre on waste and the environment to stimulate the green enthusiasm of the island's schoolchildren and many others.
Bofa conducts classes, guided tours and lectures in the "Waste Info Tower", as it is commonly referred to, in a digital, interactive experience universe using QR codes and other technology.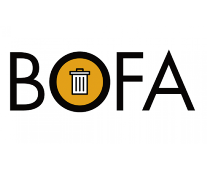 CONTACT
Almegårdsvej 8
3700 Rønne
Tel: + 45 56 92 55 00
Web: www.bofa.dk