Bornholm Airport may not be one of the largest airports in Denmark – but it is propably situated in the most beautiful place and just 7 minutes from arrival port of Rønne.
• Up to 8 daily departures to and from Copenhagen.
• Bornholm Airport is an international gateway fulfilling all requirements.
• The airport handles operations for both small and big flights on a daily basis.
• The airport has an expanded cooperation with the Danish military and the Danish Search and Rescue alert-initiative – and is used to handle helicopters as well.
---
Statistics
270,000 passengers went through Bornholm Airport in 2015.
---
Handling and facilities
• Cargo-handling
• Fuel: 100LL and Jet A1
• Fuelling 100LL: 150 L/MIN
• Fuelling Jet A1: 400 L/MIN
• De-icing facilities
• Minor repair facilities.

---
Full AIP
Download full AIP
---
Other services
• Direct booking and luggage check-in to foreign destinations via Copenhagen Airport
• Car rental Taxi and public busses
• Restaurant
• Wifi
---
Helicopter Experience
When NordStream established two parallel gas pipelines from Vyborg in the northern Russia through the Baltic Sea to Lubmin in Germany [1,224 km), Bristow Group had their helicopters based at Bornholm Airport – flying offshore staff to and from the three pipe-laying barges. Bornholm Airport handled all the necessary procedures.
---
Operator
Danish Air Transport is the primary passenger-operator through its subsidiary Bornholmerflyet.dk.

DAT provides a number of scheduled services as well as passenger charters and freight services. Turnover in 2014: 502 mio. dkr.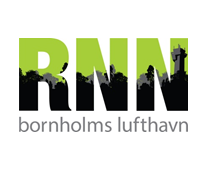 CONTACT
Søndre Landevej 2, Nylars, DK-3700 Rønne
Tel:  +45 56 95 26 26
Mail: ekrn@trafikstyrelsen.dk
BORNHOLMERFLY
Tel: +45 56 95 15 15
Mail: rute@dat.dk
Web: www.dat.dk/en