Situated in the middle of the Baltic Sea, Port of Rønne is the natural choice as a maritime and offshore service hub. Efficient infrastructure and a wide range of maritime and offshore services are available and all within 7 minutes.Virtually all seagoing traffic to and from Bornholm – goods, products, passengers and vehicles passes through Port of Rønne via the 4 ferry routes to/from Ystad (SWE), Køge (DEN), Sassnitz (GER) and during the summer
/ port facility
/ service and installation hub for offshore and maritime projects
/ base facilities for installation vessels and crew boats.
Core products
• Heavy duty Area
• Fresh water
• Bunkering
• Cranes
• Diving service
• Waste and sewage
• Wifi
• Mooring Service
Other products
• Service and installation hub for offshore and maritime projects
• Base facilities for installation and service vessels and crew boats.
Selected reference
2020/21 Siemens Gamesa Renewable Energy will be the first to use the new established 150.000 sqm project area as pre-assembly facility for the Danish offshore wind park Kriegers Flak. Kriegers Flak is so far the biggest and most cost-efficient offshore wind farm in Denmark, with its 605 MW. It will be build 15-40 km east of the island Møn and consist of 72 wind turbines). Bent Rasmussen, project manager in Siemens Gamesa Renewable Energy, has commented the project:
»Another important fact: from the very start we have been met with a very positive and constructive attitude from Rønne Harbour. They want to be active players when it comes to finding solutions and creating the best conditions for us. The team work has been excellent. It's a big project that requires a lot from the harbour, of course, but also from the community when it comes to hotels, restaurants etc. In that regard, working with the people from the harbour has been very nice.«
Other references
• In 2018 Rønne Havn A/S was service hub for the Dutch cable installation company VBMS when they were running their array cable campaign for the German Arkona Offshore Wind Farm project. According to the project manager at VBMS, Emile van der Heide, it was especially the well-working infrastructure and the efficient service level that caught their interest: »When working in the first stage of our cable installations, we discovered the great logistical advantages that Bornholm, and in particular Rønne, have to offer. The good flight- and ferry connections, accommodations and a hospital close by made Rønne an obvious choice. Our experience is that both the management at Rønne harbour, BHS and the motor repair shop at Sydhavnen will be helpful in assisting us on short notice – and in this industry reliability, dependability and service are key.«
• Bornholm has also proven its capacity to assist geotechnical and geothermal marine investigations and projects involving the laying pipes and cables. Port of Rønne is perfectly situated as an O&M service hub for offshore wind farms providing facilities for installation vessels and crew boats.
Specifications
• Up to 11 meters water depth
• Two new 2x300 and 275 meter multipurpose quays that can accommodate ships up to 350 meters in addition to the existing port facilities.
• A 1,500 meter long breakwater
• ISPS
• 250.000 sqm of multiple purpose project area.


Certifications
ISO 9001, ISO 14001, DS 49001 and OHSAS 18001.
Environment
ISO 14001
Ownership
Rønne Havn A/S is a private limited company owned primarily by the municipality of Bornholm.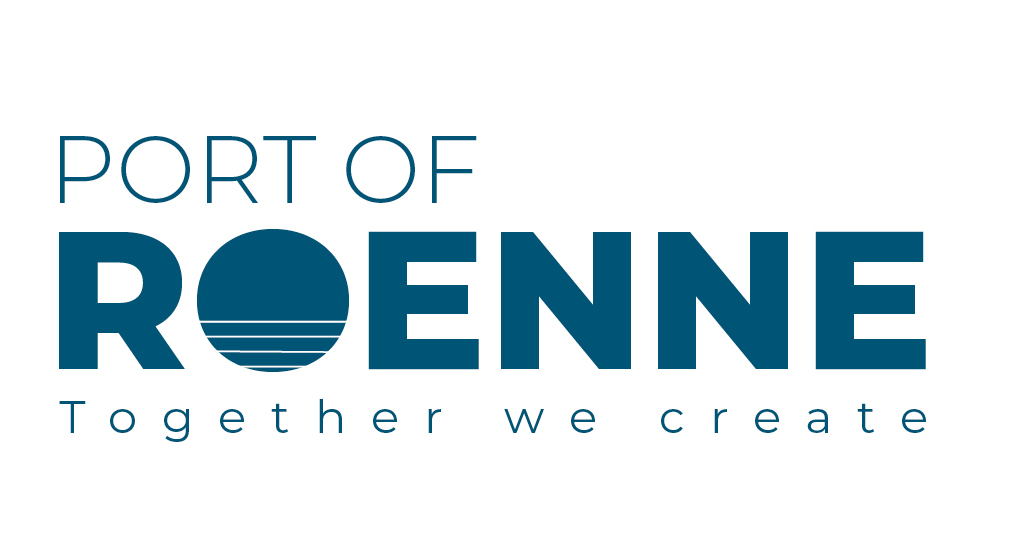 Rønne Havn A/S
Fiskerivej 1
Postboks 47
DK-3700 Rønne

Tel: +45 56 95 06 78
Fax: +45 56 95 06 31
VHF: Channel 16 og 12
Mail: roennehavn@roennehavn.dk
Web: www.roennehavn.dk
•
Maritime Service Department (24/7/365) +45 51 363 747
•
Business development Offshore
Jeppe la Cour 
+ 45 56 93 05 46  / + 45 23 45 87 65
jeppe.la.cour@roennehavn.dk

Maja Felicia Bendtsen, CBO Bulk
+45 30 85 68 90
maja.bendtsen@roennehavn.dk