Situated in the middle of the Baltic Sea Port of Rønne is the natural choice as offshore service hub providing effecient infrastructure and a wide range of offshore services – all within 7 minutes of arrival.
Recent years Port of Rønne has undergone a rapid development March 2015 Port of Rønne achieved four international certifications.
Port of Rønne is the 7th largest port in Denmark with modern ISRS facilities and 24/7/365 service.
Port of Rønne is vital to the entire Bornholm community, as virtually all seagoing traffic to and from Bornholm – conveying goods, products, passengers and vehicles –  passes through Port of Rønne. A recent analysis concluded that Port of Rønne contribute with 4.1 billion danish kroner in the islands gross domestic product. More than 1.850 workers are dependent of the port. 
---
Certifications
ISO 9001, ISO 14001, DS 49001 and OHSAS 18001.
---
Dimensions
Up to 9 metres depth
Longest quay: 240 metres
---
Services all within seven minuts
In collaboration with Offshore Center Bornholm the following services are available all within 7 minutes from arrival Port of Rønne.
• Bunkering
• Service at sea
• Maintenance and repair
• Airport
• Spareparts
• Supplies
• 3 ferry connections
• Hospital
• Hotels
• Free WiFi
• Freshwater
---
Ownership
Rønne Havn A/S is a private company publicly owned by the municipality of Bornholm.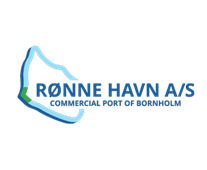 CONTACT
Rønne Havn A/S
Sydhavnsvej 12 Postboks 47 DK-3700 Rønne
Tel: +45 56 95 06 78
Fax: +45 56 95 06 31
VHF: Channel 16 og 12
Mail: roennehavn@roennehavn.dk
Web: www.roennehavn.dk
For Business Development
Ulla Kiersgaard
Ulla.Kiersgaard@roennehavn.dk
+45 56 95 06 78
AREA
The port of Rønne has 600.000 m2 for commercial activities. More than 220.000 m2 is in use.
POSITION
55o 05'8 N Lat, 14o 41'4 E Long.